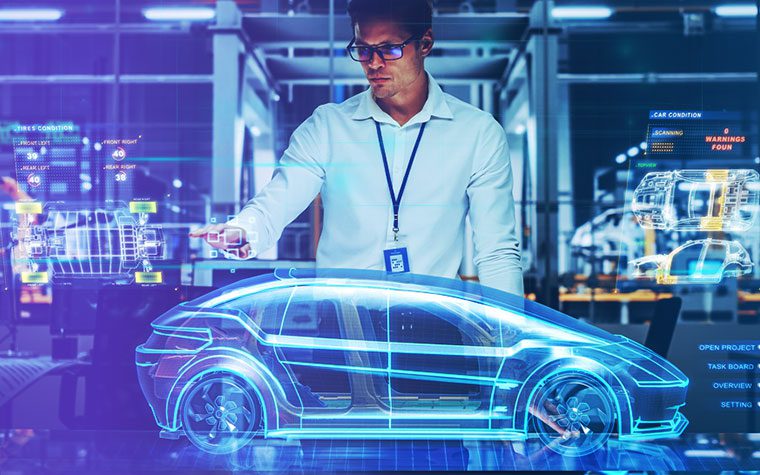 7 Unbeatable Benefits of Adopting Digitization & Automation for Automobile Manufacturers
The automobile industry is navigating towards an era of ever-increasing demands for introducing high-tech features and functionalities into their product variants. Consequently, manufacturers are dealing with a multiplying list of software/hardware integration challenges resulting due to the mounting complexity of blending software-driven features into the electrical and electronic systems, as well as the mechanics of a vehicle.
Managing and overcoming these production challenges require automakers to digitize and automate their ecosystem and underlying processes, that can help them compete, collaborate, and connect better. Digitization and automation allow automakers to employ a comprehensive model-based systems engineering approach that is must for the sustainable and smart manufacturing of the "vehicles of tomorrow". Automobile manufacturers need to grab this opportunity to harness the power of digitization and automation to solve manufacturing problems related to compliance, quality, scalability, and sustainability.
Check out the top 7 benefits of digitization and automation in the automobile manufacturing sector.
1. Sensors and AI for Increased Productivity & Cost Savings
Automation has enabled automobile manufacturers to increase their production capacity, reduce lead times, and minimize production errors. With automation, production processes are streamlined alongside ensuring high-throughput rates. Digitalization of auto-manufacturing plants can reduce machine downtime and lower plant maintenance costs significantly by optimizing inventory management and reducing labor costs.
Installation of sensors in manufacturing plants can arm automakers with a range of benefits, such as the ability to diagnose operational or functional defects and predicting future usage. Any part of a vehicle will not function as it should if not fed with the appropriate amount of material. Insufficient or excessive material can lead to component tearing and instability. Sensor-equipped technology can automatically adjust this amount by a certain process, thereby enhancing quality and accuracy during the stamping process and subsequently improving overall productivity and cost-efficiency by reducing the number of rejected parts.
Moreover, with the application of AI-driven technology in automotive manufacturing, it is easier to schedule and manage workflows as well as pinpoint component-specific defects before the manufacturing phase. Plus, manufacturers can:
Design the vehicle digitally
Make "n" number of changes before the final design
Have greater certainty with virtual reality
2. Improved Build Quality & Quality Control
By investing in digital transformation, automakers can leverage better product quality and ensure higher ROI. Automation ensures that every product (in the same design line) is manufactured the same way, every time, with consistent precision, accuracy, and lower volume of quality control issues. This guarantees that the quality of the product is high, and deviations are minimized besides providing quicker time-to-market.
3. Safer Manufacturing Environment
Automation reduces the risk of accidents caused by human error or physical exertion. Digitized systems can easily tackle heavy loads with robots operating in potentially hazardous environments, thereby reducing the risk of injury to human workers.
Automated systems also come with the added advantage of responding to emergency scenarios faster by providing real-time monitoring. In addition, automakers can make use of safety automation software to update safety protocols and create a plan of action in case of an emergency, quickly and efficiently without causing any disruption to regular operations.
4. Intelligent Automation for Enhanced Manufacturing Flexibility
It's time to bid farewell to the stationary conveyor technology assembly line, as intelligent automation and robotics have now allowed automobile manufacturers to be more agile and responsive of the changing market demands. Machines can be programmed to quickly switch between products without having to scrap the entire production line. Instead, production lines can be reconfigured, and the robots reprogrammed easily according to the changing needs of the market. Manufacturers can gain a clear competitive edge by applying the complete spectrum of flexible automation into the final assembly of vehicles.
5. Automation Channeling Customer Satisfaction
With ACES (autonomous vehicles, connectivity, electrification, and shared mobility) slated to drive significant changes in OEM business models, let's not forget that ultimately it is the customer experience quotient that will impact and decide the success of such changes. Consumers expect nothing short of consistent personalized experience across all vehicular channels accessible to them. In this regard, automation can help ensure that products are made to exact customer specifications, thereby leading to higher levels of customer satisfaction.
6. Big Data & Analytics for Data-driven Decision-making
Digitization enables manufacturers to collect data on every aspect of the manufacturing process, which can then be analyzed to identify areas for improvement, enhance production processes, and make better decisions.
For instance, data from predictive analytics boosts forecasting efficiency besides performance and operations. On the other hand, supply chain data can shed some light on chain links that might potentially weaken, thereby allowing manufacturers to take a data-driven call proactively before the real problem even manifests.
7. Integrated Solutions for Sustainable Manufacturing
Automation enables manufacturers to reduce waste, minimize energy consumption, and utilize eco-friendly materials, leading to more sustainable manufacturing practices. Automotive engineering backed by digitization can support the safer use of batteries, durability, crash protection, effective thermal modeling of advanced cooling systems, etc., to meet all emissions standards and sustainability goals seamlessly.
It is as true and empirical as the sun and the stars that digitization and automation have transformed the automobile manufacturing industry, leading to a multitude of advantages. But there does exists a slight automation gap due to complexities surrounding the handling of flexible components, geometric variances, collaboration between humans and robots, challenging process sequence and product variant complexities. That said, this automation gap can be overcome with the streamlined implementation of sensors, robots, advanced networking technologies, edge systems, cloud, simulations, and other techs in the arsenal of digitization.