Driving design-led tech-enabled transformations
The digital revolution has brought about a radical transformation in the World of Engineering. The competitive landscape is continuously driving organizations to innovate and create more sophisticated and future-ready engineering products. It has become crucial for businesses to partner with specialist engineering service firms that understand the driving forces of digital transformations and can help them achieve the right route-to-market strategy while efficiently managing the highly complex engineering transformation journey.
TAAL Tech provides end-to-end Transformative Engineering Design (TrEnD) services leveraging our India Design Centers (IDC) and High-Value Engineering Centers (HVEC). Our Agile delivery model coupled with our operational expertise, enables us to drive every phase of the transformation journey from discovery to aftermarket support with excellence.
Our Approach
Our Design and Engineering approach leverages the capabilities of in-house industry experts, technology enthusiasts, and platform CoEs to deliver cost-effective and productive solutions. Based on the business requirements, TAAL Tech can develop a dedicated IDC or HVEC, comprising a group of seasoned experts and consultants with different engineering skill sets and specialties to accelerate design transformations. This guarantees an extended partner ecosystem ensuring continuous business support, easy team ramp-up and ramp-down, and a shared success model.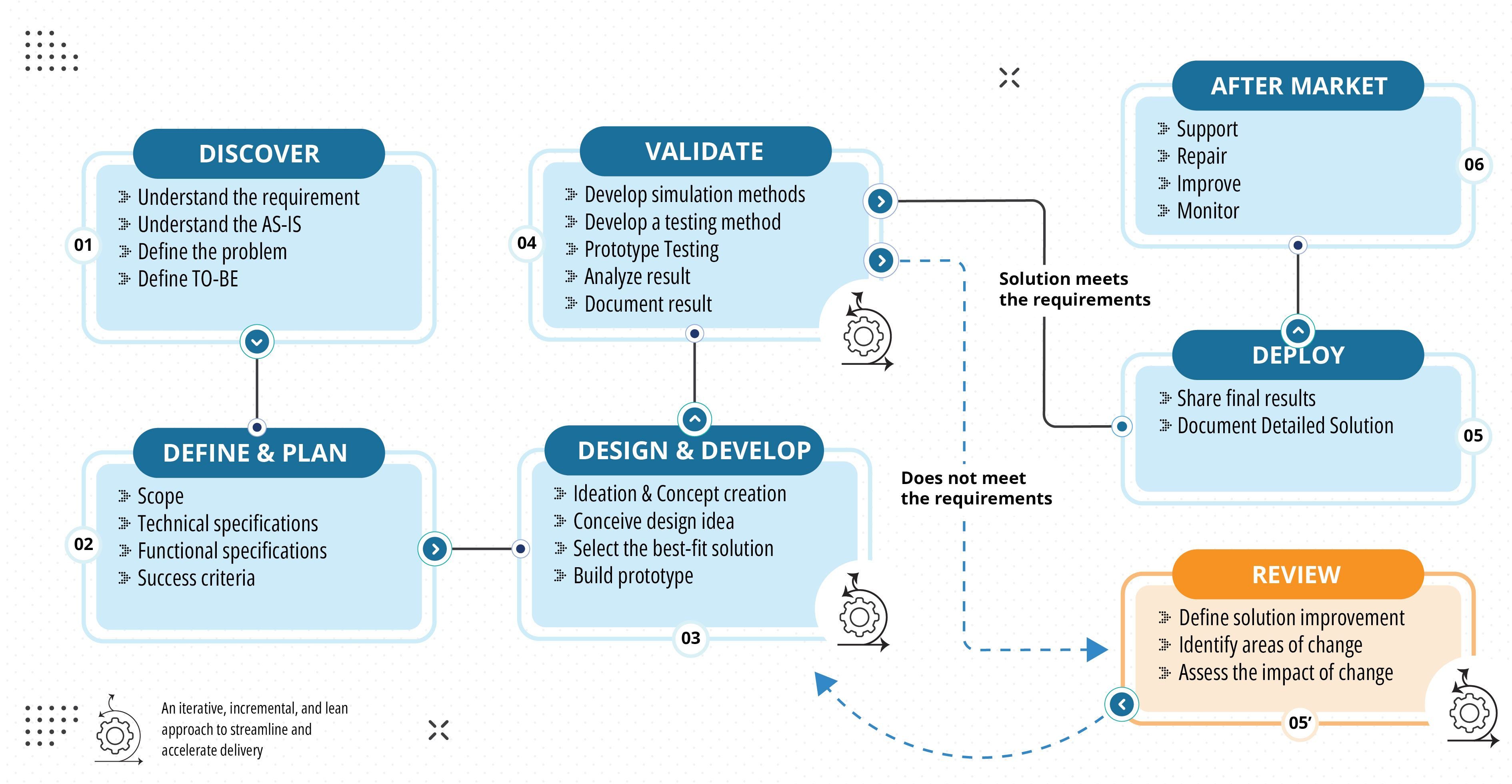 The success of any project largely depends on a clear understanding of the problem statement, business imperatives, and underlying technology landscape. Communicating with stakeholders to understand the purpose and desired outcomes of the project. Defining the functional specifications and success criteria of the project, including the budget, time constraints, team size, and the role performed by each stakeholder.
The design phase involves figuring out the "how" of accomplishing a project. It's the stage of ideation and conceptualization. In a collaborative environment, engineers from different disciplines co-create and come up with diverse design ideas, of which the best-fit solution is chosen. A prototype is developed based on the best-fit solution, which essentially entails the required specifications of the final solution.
The prototype is then tested and validated to check if it meets the requirements. In case it doesn't meet the expectations, necessary revisions will be implemented before deploying the product. We follow an Agile management system that allows us to perform all the project activities in a streamlined manner, while also keeping the provision for continuous feedback, reviews, and revisions.
TAAL Tech's Aftermarket practice provides end-to-end support for your products. Be it data management and analysis, documentation, repair engineering, or remote monitoring, we can help you with various aftermarket solutions. Our goal is to help you extend product life to cope with today's industry standards, improve safety, reduce costs, and upgrade processes for maintenance, repair, and overhaul.
Secure better project outcomes & improved ROI with TAAL Tech's digitized engineering support. Get started now!
Get Started Now