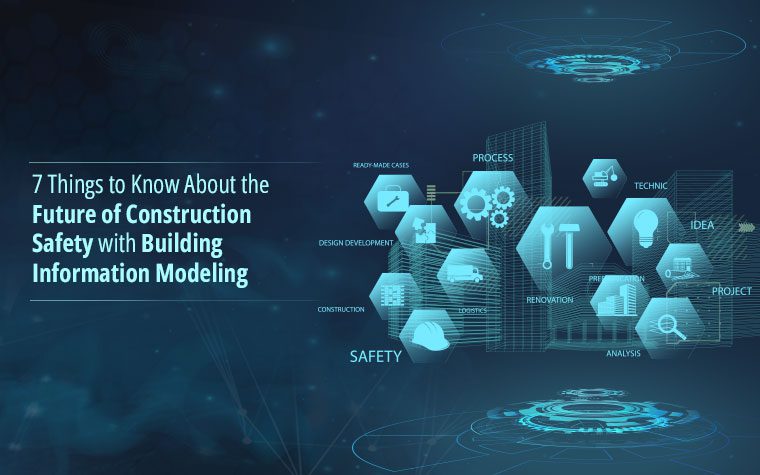 7 Things to Know About the Future of Construction Safety with Building Information Modeling
There is no denying the fact that Building Information Modeling (BIM) is changing the way we design, collaborate, build, and operate. Simply put, BIM helps us to plan and construct buildings, roads, bridges, or any other physical structure, with greater insights and improved profitability over the entire building life cycle, generating measurable benefits for contractors, planners, investors, and operators. But that's still not the entirety of how all-encompassing a role BIM is gearing up to assume.
Beyond its practical applications in design and planning, BIM technology has been extensively studied and developed for its adoption in construction safety management. From a purely safety and health perspective, people working on a construction site must be aware of any risks associated with their job. And that is where BIM is being a true savior and will continue to be so in the foreseeable future. Here are 7 key things to know about the role of BIM in the future of construction safety.
1. Safety Information in 3D and 4D Models
BIM allows construction teams to visualize the project in 3D and 4D models, which can be modified to include health and safety information and reviews in real-time. This translates to enhanced integration of risk assessment and hazard management into construction planning and design, which ultimately helps identify potential risks and develop corresponding strategies to mitigate the same.
We can now combine 3D and 4D BIM modeling with time-based information, such as the sequence in which construction activities are going to take place, to generate simulations that accurately represent the project along with safety requirements.
Further, safety benchmarks or scorecards can be created using the data derived from BIM models. These scorecards can help different project teams in tracking and comparing safety-related improvements over time.
Since it would be a better option compared to the current life safety plan that need to be submitted for authority approvals prior to works authorization, in future, we can expect BIM assisted life safety studies which will greatly reduce the limitations in 2D plans as a mandatory document for approvals.
2. Virtual Safety Tours
Any construction site safety plan is incomplete without safety tours as a part of safety inspection, that have now gradually transitioned from physical walks around the worksite to BIM-enabled virtual tours. By analyzing 3D digital models, safety officers can easily detect potential hazards before construction begins or even site is set up. With this, project managers and other stakeholders can ensure that industry regulations and guidelines are followed right from the construction outset and assure thorough worksite safety.
3. Site Access Simulation
With BIM, it's possible to create simulation models of site access and traffic flow, which can support collaborative decision-making significantly. Alongside its use in the building sector, BIM also finds application in road infrastructure projects and can help with traffic analysis. By simulating, analyzing, and calibrating different scenarios and outcomes, project teams can prevent potential accidents and improve site accessibility to minimize risks for workers.
4. Automated Safety Monitoring
Cloud-enabled BIM can be used to automate construction site safety monitoring using sensors and cameras. Such automated recognition integrates the application of sensing technologies that can considerably reduce manual efforts associated with construction safety monitoring. It can allow for real-time data collection on machinery, equipment, workers, and materials, making it easier to detect potential hazards, monitor and manage risks.
5. Virtual and Augmented Reality Training
BIM can provide virtual reality (VR) and augmented reality (VR) training for workers in high-risk construction areas. The use of augmented reality in concert with BIM, for instance, can improve worksite safety through specific AR devices, such as glasses and mobile devices that scan objects or tags. These scans can generate 3D models or information cards to communicate potential risks and safety information to workers. VR and AR training can, thus, help prepare workers on how to handle dangerous situations without putting them in real-life harm's way. It also allows for more in-depth and realistic simulation of site conditions that would be impossible to recreate outside of a digital model.
6. Standardization and prefabricated construction
BIM continues to boost construction safety by allowing AEC professionals the opportunity to standardize and prefabricate construction materials in a controlled environment. If the same task is done following traditional on-site approaches, things can quickly get unpredictable and impact construction safety. Instead, with BIM, engineers get access to a digital environment to design elements, thus accurately assessing the safety and structural integrity of each element by itself and in concert with other interacting materials.
7. On-site Coordination
BIM provides a platform for real-time collaboration and, most importantly, a single source of truth for all related project information. With this, it enhances on-site coordination and reduces the risks of mistakes or miscommunications that can lead to construction safety issues. This tool allows modelers and other stakeholders to visualize on-site spatial relationships, such as distance between objects, interference between different sub-ambs, Material delivery and storage locations, planning the location of crane etc., thus reducing the likelihood of accidents due to incorrect spacing or inadequate placement of the physical objects.
As the world continues to rely more heavily on technology, it is clear that BIM will become an essential tool for construction managers and designers looking to improve construction safety. In the future, BIM can be integrated within the beginning of every project and develop as the project continues, to anticipate threats, ensure worker safety and improve proficiency. By allowing for more effective risk assessment, hazard management, and training, BIM certainly has the potential to save lives and reduce accidents on construction sites.