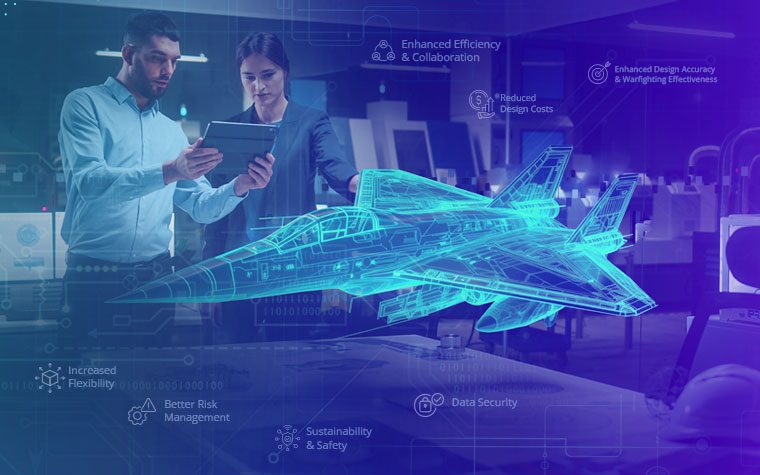 Integration of Digital Engineering to Advance Defense Aircraft Designs
The Aerospace & Defense (A&D) industry is particularly known for embracing innovations and setting the bar high. Amidst the most challenging of times, this industry has witnessed major disruptions in electronic propulsion, supersonic flights, and next-gen fighter defense-craft, just to name a few. It has been possible since the defense industry has lately undergone a significant shift towards digital engineering for aircraft designs. This specialized field of product engineering utilizes a gamut of digital technologies to design, create, simulate, and test complicated systems. With the increased availability of cutting-edge technologies and the need for advanced defense systems, digital engineering has become a crucial tool for aerospace designers and engineers.
In more ways than one, digitization combined with the relevant expertise and skills can help innovate for the future and, at the same time, be in tune with the latest trends of the industry. Let's dive into the importance of incorporating digital engineering to improve and optimize defense aircraft designs:
Enhanced Efficiency & Collaboration
Digital engineering enables faster and more efficient design processes, thereby reducing the time from concept to production. It further promotes better collaboration between designers, engineers, and suppliers, making it easier to share information and coordinate efforts. Moreover, enhanced, and adaptive training is possible with the help of real-time pilot feedback and virtual reality solutions.
Reduced Design Costs
Digital engineering allows designers to optimize designs and identify problems early on in the process, which can save significant time and money in the long run.
Enhanced Design Accuracy & Warfighting Effectiveness
By using digital simulations and analysis, designers can predict and optimize the performance of aircraft components before they are built. In addition, the aircraft's warfighting effectiveness can be enhanced with the help of a range of digital technologies, such as AI platforms, digital soldier systems, Big Data & Analytics, unmanned vehicle-to-vehicle communication, advanced visualization, and decision support.
Increased Flexibility
Digital engineering gives designers more flexibility to experiment with different defense aircraft design concepts and make quick modifications based on feedback and test results.
Better Risk Management
By simulating different operational scenarios, digital engineering helps designers identify potential risks and hazards before an aircraft enters service. The operability of next-gen defense aircrafts can be optimized manifold with the incorporation of a blend of digital strategies, such as equipment efficiency optimization, predictive maintenance, remote monitoring and remote maintenance, human/robot collaboration, and advanced process control.
Sustainability & Safety
Digital engineering facilitates the use of environmentally friendly materials and technologies, contributing to a more sustainable aviation and defense industry. It can help identify potential safety issues, such as structural failures and software malfunctions, before an aircraft enters service, improving overall safety.
Data Security
Digital engineering plays a crucial role in enhancing data security in defense aircraft by offering a systematic and integrated approach that leverages advanced technologies to safeguard sensitive information. Some of these technologies include intrusion detection and prevention systems (IDPS), secure data storage systems, secure communication networks, and real-time monitoring and analysis.
For decades, the defense industry has been an ambitious adopter of trending and advanced technologies, such as computer-aided design, stealth, and composites. However, this adoption rate can do better with a little boost in order to meet contemporary demands, realize operational and financial value, and most importantly, create smarter and sustainable defense aircraft designs. That said, the incorporation of digital technologies, such as Internet of Things, Cloud Computing, Augmented Reality, Artificial Intelligence, and Big Data come with their own share of challenges. But this automation gap can be bridged with the help of domain depth and expertise, and thus, should be aggressively pursued by OEMs looking to make a difference.