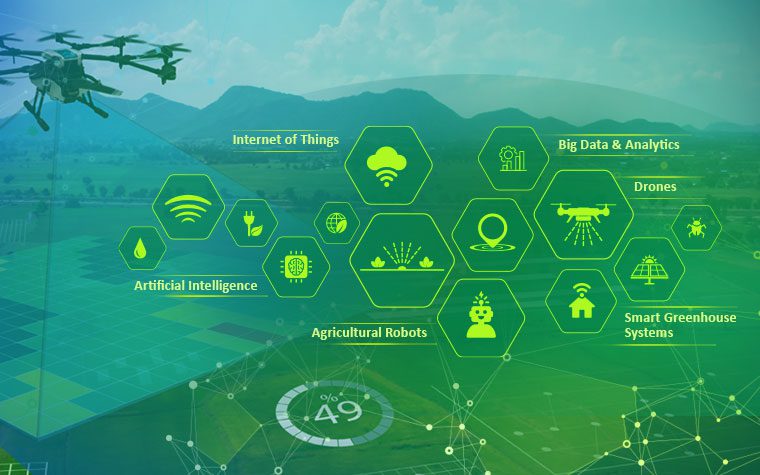 6 Smartest Agriculture & Forestry Engineering Trends in 2023
Digital innovations are transforming agriculture and forestry industries in terms of improved crop productivity, better work safety, reliable management of natural resources, and mapping the distribution of forest ecosystems. The broad adoption of digital technologies and the rapid pace of investments by agriculture and forestry companies are a testament to the power of digitalization, and this wave of tech-led engineering transformation is here to stay.
Check out the top 6 engineering trends in agriculture and forestry in 2023.
1. Internet of Things
Conventional monitoring of agricultural and forest lands calls for intensive labor, time, and effort. IoT provides an alternative to this. IoT sensors can collect data from a farm or forest land and offer real-time insights and precise information through apps and other digital means. Thus, IoT sensors can ease up a range of activities, such as livestock monitoring, plant tracking, remote monitoring of lands, and automating the delivery of water to crops.
With advancements in digital interventions, it is now possible to develop innovative connected sensors that link IoT devices with drones, robots, and computer imaging to improve accuracy and speed. In digital forestry, the deployment of IoT further provides forecasts for fires, soil erosions, and undesirable depositions.
2. Drones
It can be quite challenging to strike a balance between cost efficiency and farm productivity. The implementation of drones in agriculture can help overcome such hindrances. These advanced pieces of technology collect raw data which is then converted into useful information for farm monitoring. Drones armed with high-tech cameras for aerial imaging and remote sensing can collect crucial data that help make more informed decisions in terms of optimizing fertilizers, water, seeds, pesticides, and geofencing monitoring. Latest advancements in drone technologies allow them to even measure soil mineral chemical composition & chlorophyll level.
The use of UAVs (Unmanned Aerial Vehicles) has the power to revolutionize forest management as well. With the help of drones, it is easier to monitor landscapes and tree populations besides accessing hard-to-reach areas. Also, drones can find their application in sustainable commercial logging besides forest preservation activities. This will allow the concerned stakeholders to plan harvest and tree count activities without having to even visit inconvenient areas on foot.
3. Agricultural Robots
With agricultural robots, it is now possible to gather and analyze data that can help improve crop yield significantly. Advanced agricultural robotics enable stakeholders to assign robots to time-consuming and repetitive tasks. Robotics in agriculture includes Mobile Agricultural Robot Swarms (MARS), automated and assisted steering systems, and mechanical swarms among others. Perhaps, the biggest plus of implementing robotics automation in agriculture is that it reduces human errors, allows cost-efficient production, and ensures improved food quality.
4. Smart Greenhouse Systems
Smart greenhouse systems use sensors and automation to regulate temperature, humidity, light, and air quality inside greenhouses. This smart agriculture technology enables year-round production of high-quality crops. Also, smart greenhouses make use of machine learning to process and remember information about crops and their ideal environment, thereby helping take better decisions.
5. Big Data & Analytics
Big data analytics is used to collect and analyze data from various sources, such as weather patterns, soil moisture levels, and crop growth. This technology allows stakeholders to make data-driven decisions and optimize crop yield. Besides improving farming operations, productivity, and simplifying data management, big data has the potential to combat one of the biggest problems in agriculture – reducing food waste. Nearly 30% of food today is wasted at various stages of the supply chain. With big data being a major arm of AgriTech, it can save up to $150-$400 billion a year by 2030.
7. Artificial Intelligence
The growing widespread incorporation of AI-backed tools and data into field operations speaks volumes about the importance of emerging technologies in agriculture and forestry. AI technology provides key insights and valuable data related to weather, crop yield, and can even suggest the best crop prices that companies should keep, thereby influencing the decision-making processes significantly.
Smart chatbots are a type of AI agricultural technology that offer crucial farm recommendations and suggestions to the farmers and stakeholders. On a more widespread level, AI and ML algorithms can also help identify and monitor diseases and anomalies in plants, livestock, and forest flora and fauna.
There is no doubt that the tech-led transformations in the agriculture and forestry space can meet the increasing demand for sustainability and automation. There is now a gamut of technologies at the forefront to change how we approach the digitalization of these sectors. That said, very limited nations are utilizing digital tools which would help convert data into insights. In the USA, just 25% of the total farm area uses connected devices for accessing data. Modern agricultural and forestry engineering technologies and applications must be in line with the 2030 UN Sustainable Development Goals. So, as we continue to enter a phase where the demand for food is going to surpass the supply, it is indeed time to lay the groundwork for a sustainable future by adopting emerging digital technologies.