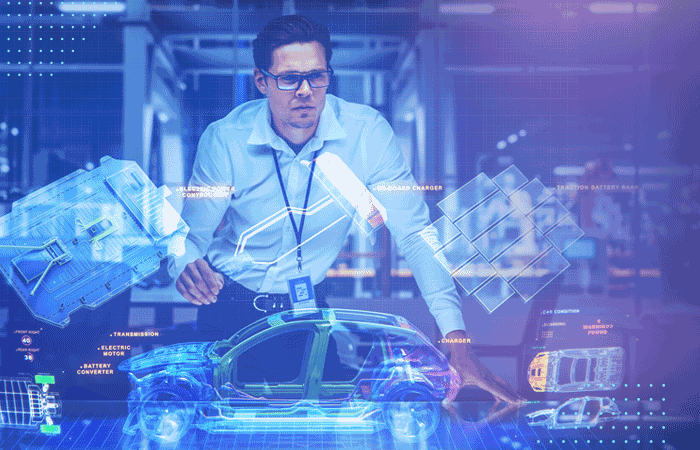 Automotive Body-in-White (BIW): 4 Key Trends to Watch Out For
Automotive Body-in-White (BIW) plays a central role in reflecting the performance and character of a vehicle. It refers to the stage in the manufacturing process where a vehicle's body shell is welded together before it is painted and assembled with other components. This means the vehicle body frame has been joined together, which includes the hoods, doors, trunk, deck lights, and bumper. It is the structural foundation of a vehicle, consisting of the body frame, chassis, and other vital components.
The importance of the BIW lies in its role as the backbone of the vehicle. It provides the necessary strength, stiffness, and durability to ensure the vehicle's overall structural integrity. Therefore, it is no surprise that a well-designed and well-constructed BIW is crucial for a safe and reliable vehicle. In fact, the automotive BIW market in the US is expected to clock $91 billion by 2027. This is where OEMs and tier-1 suppliers in the automotive industry usually need specialist assistance, thereby cementing the need for BIW capabilities leveraging cutting-edge tools and the power of digitalization.
4 BiW Trends Making a Difference in the Industry
Experienced BIW design and development engineers use state-of-the-art digital tools and specialized software to develop conceptual EV BIW models, optimize BIW models quickly, remove penetrations and intersections between parts, to name a few. Let's take a look at some of the current and future trends in Body-in-White:
Increased Focus on Safety
The crashworthiness of Body-in-White has a key role to play in the full vehicle crash performance. It provides a rigid structure that absorbs and distributes impact forces away from the occupants, keeping them safe. The number of adhesives and welds has a direct impact on the crashworthiness of BIW, also making it a potent area for research and optimization.
State-of-the-art Materials to Ensure Weight Efficiency
With increasing fuel efficiency regulations, automakers strive to reduce the weight of vehicles to enhance fuel economy. A lightweight BIW contributes to the overall weight reduction, improving the vehicle's efficiency and reducing emissions.
Body-in-White involves the use of cutting-edge materials, such as carbon fibers and composites, which are known for their durability and longevity. Similarly, the lightweight structure and incredible strength of aluminum have contributed to its increased application in BIW. Further, aluminum is corrosion-resistant and easily recyclable as well.
Design Flexibility & Manufacturing Efficiency
The Body-in-White provides a platform for designers to shape the exterior and interior of the vehicle. It allows for creative freedom in developing unique and aesthetically pleasing designs. Plus, it is designed for ease of assembly, allowing efficient and cost-effective manufacturing processes. Simplicity and modularity in BIW design enable streamlined production, reducing manufacturing cycle times and costs.
In this regard, automation and robotics are driving significant transformations in BIW, where the process benefits from reduced chances of human errors and enhanced production efficiency. On the other hand, 3D printing technologies can be leveraged in BIW to develop production parts and prototypes. With the aid of such technologies, OEMs can witness a considerable drop in production costs and lead times.
Noise, Vibration, and Harshness (NVH) Control
NVH, or Noise, Vibration, and Harshness, is a measure of a vehicle's unpleasant tactile and aural feedback. In simple terms, the lower the NVH level, the better the ride. The NVH criteria are established with a top-down approach right from the system level to the component level.
There are multiple aspects in NVH control wherein diverse BiW strategies in conjunction with advanced tools and technologies can enhance the driving comfort and refinement of the vehicle for passengers. For instance, Finite Element Analysis (FEA) and Topology Optimization Software can help engineers refine and optimize the resonance behavior and stiffness of the BiW's structural design. Similarly, NVH simulation software, such as ANSYS and Actran can simulate the NVH behavior of complex structures thereby contributing to NVH control.
Players in the automotive manufacturing industry are striving to develop components and body structures that are lightweight and more performance-focused. This is where technological advancements like Body-in-White are shouldering quite a remarkable responsibility. That said, it is not free of its share of challenges, which can only be overcome and overpowered with the right knowledge and relevant tools. Manufacturers and suppliers committed to making a difference should dedicate more focus to this amplifying area and develop strategic alliances with specialist engineering firms to realize more value.